By Betsy Morais
Here is an interesting article for writers and soon to be writers.
Before they became celebrated authors, most literary figures had day jobs. When did they start thinking of themselves as "writers"?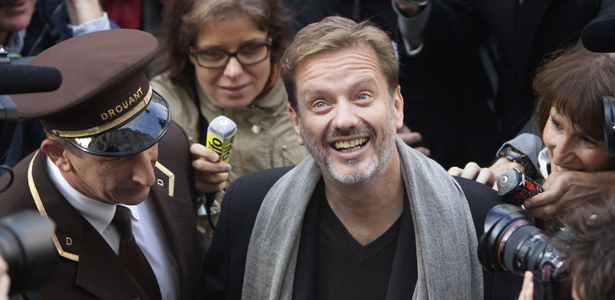 AP Images
A 48-year-old high-school biology teacher from France, Alexis Jenni, won the country's top literary prize this year, the Prix Goncourt. When he received the honor earlier this month, Jenni told reporters, "I didn't even think that I would be published, so I could hardly dream of the Goncourt. I was a little resigned to anonymity."
Jenni's winnings are, officially, a symbolic check for 10 Euros, and, unofficially, a boost in sales for his 600-page novel, L'art français de la guerre (The French Art of War). In the recent past, Goncourt winners have gone on to sell around 400,000 copies of their books. But Jenni, a father of three, said he has no plans to give up his day job as a science teacher at Le Lycée Saint Marc in Lyon. He intends to remain, as he has been, "a Sunday writer."
The astounding honor that plucked Jenni from his humble weekend scribbling to rank him among the French literary elite—past Goncourt winners include Marcel Proust, Marguerite Duras, Simone de Beauvoir, and Georges Duhamel—is the rare acknowledgement of a former "nobody" as a "somebody." Since completing his education in his twenties, Jenni had been writing this and that. He sent a manuscript off to some editors, and they all rejected it. Another he did not send at all. L'art français de la guerre was mailed only to one publisher, Gallimard, which decided to give it a go. Upon Jenni's receipt of the prize, Le Lycée Saint Marc posted félicitons on their website under the banner: "Un Prix Goncourt au Lycée Saint-Marc." It was, perhaps, their win as much as his own.
If you want to read Betsy's whole article here is the link:
https://www.theatlantic.com/entertainment/archive/2011/11/when-does-a-writer-become-a-writer/248945/
share this with your FB, Twitter and other friends and follow me on my website